The ProSiebenSat.1 User Journey
Entertainment from Every Angle
ProSiebenSat.1 is more than just TV – we are the home of popular entertainment and infotainment and one of the leading entertainment providers in the German-speaking region. Our entertainment brands and platforms are not only addressing varied and complementary target groups in a tailored way but also provide viewers and users a unique entertainment landscape with our vast offering. Our target group-specific content ensures our relevance, exclusivity and, in particular, reach. To make this happen, we harness a range of platforms, to be wherever our viewers and users spend time: from social media through TV to our extensive digital offering centered around the streaming provider Joyn.
Our starting point is always the world of our programming: We continuously work to make our offerings even more attractive to viewers and users. This also means that we are continuously developing our formats further. Year after year, we energize evergreens like "The Voice of Germany" with innovative ideas – hence, audiences can now experience "The Voice of Germany" fully across our entertainment universe. Our aim is to create long-term, broad-based loyalty to our brands among viewers and users. One of them is 25-year-old Laura, who is following the 12th season of our highlight format in fall 2022.
Laura, a 25-year-old student, has a lot in common with "The Voice of Germany" (#TVOG). She has known the music show for years, enjoys dancing to songs by coach Mark Forster and, as a child with her grandparents, listened to the songs by Peter Maffay, who made his debut as #TVOG coach in 2022. She spends a lot of time on her smartphone but also appreciates the lighthouse moments in front of the TV – preferably in a cozy atmosphere, watching together with a group of friends.
Laura's User Journey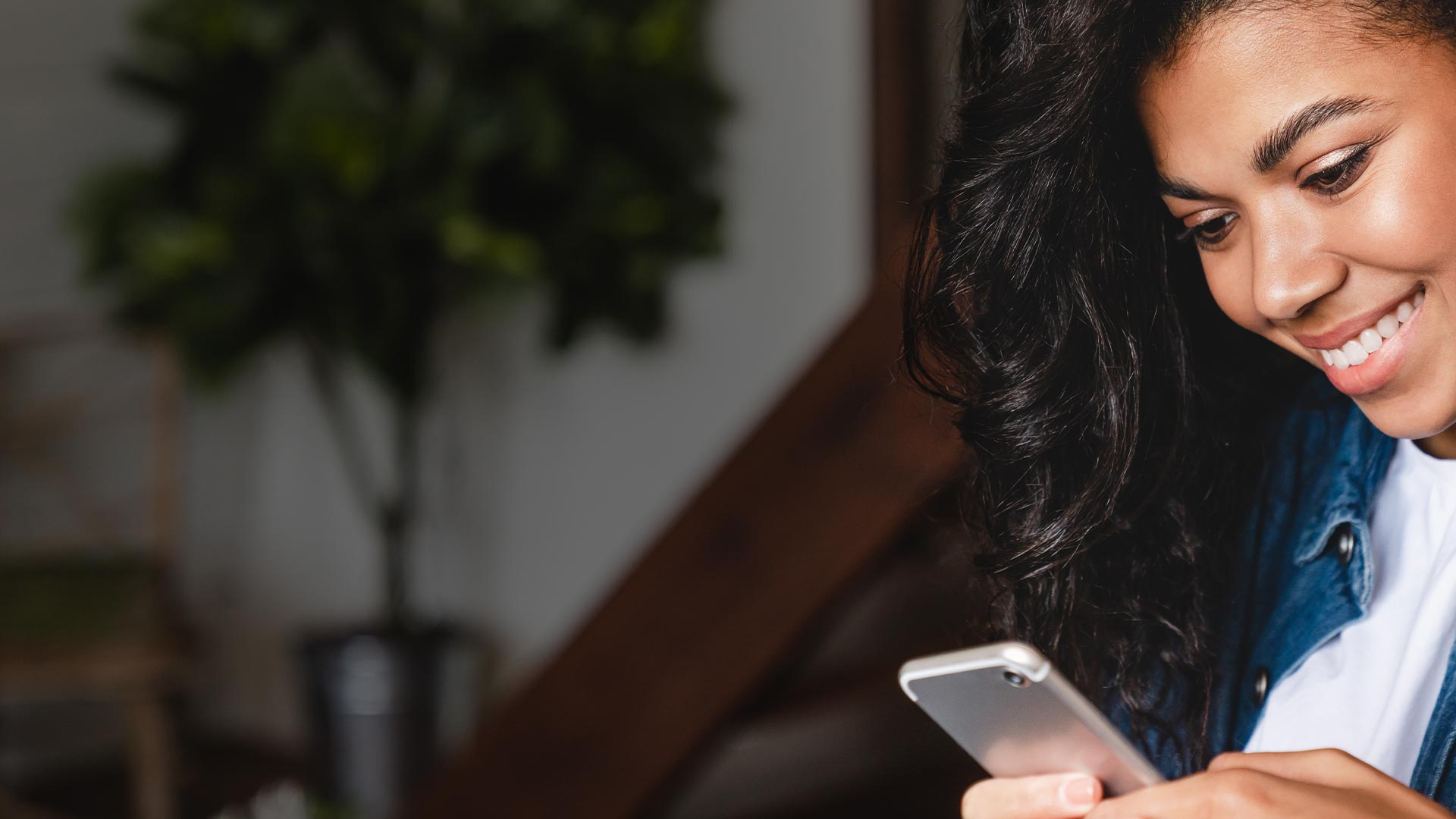 A firework of emotions
Laura watches a #TVOG highlight clip on YouTube.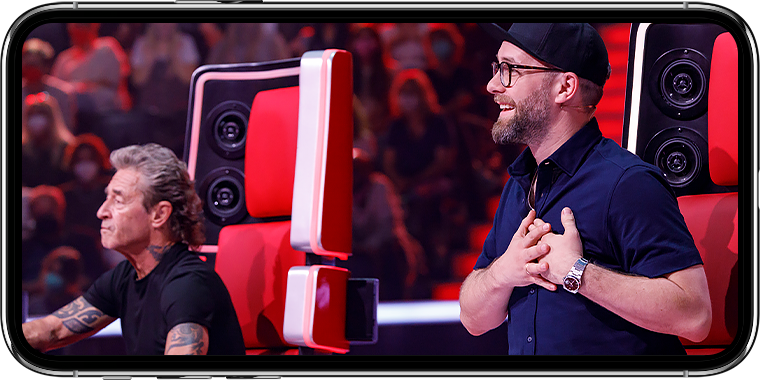 Laura's User Journey
What a voice, what a performance! Laura is enthralled: During her lunch break at university, she watches the blind audition of Anny Ogrezeanu1 – singing the Whitney Houston classic "I Will Always Love You" – on her smartphone. While scrolling through her YouTube feed, the highlight clip on the official #TVOG channel caught her eye. Anny's performance doesn't just give Laura goosebumps, the coaches are deeply impressed, too. The suspense builds. Anny finally decides for Team Mark – and Laura is thrilled to have another talent on her favorite team. Because after seeing a poster in town and several Instagram ads, she has known for a few weeks that Mark Forster is again part of the show this year.
The strategy behind
To effectively reach young target groups and take them along on our entertainment journey, users' initial contacts with our shows are crucial. These may include highlight clips on YouTube, targeted ads on social media or large-scale out-of-home campaigns. In particular, given our target groups' digital habits, we are also present on third-party platforms, which allow us to market our own products and raise awareness of our formats. As the next step, viewers and users who want to see more are directed to our own platforms.
1: As a non-binary person, Anny uses the gender-neutral pronouns they/them.
Missed an episode?
No problem!
Laura downloads the Joyn app from the app store.
Laura watches an episode of #TVOG as catch-up on Joyn.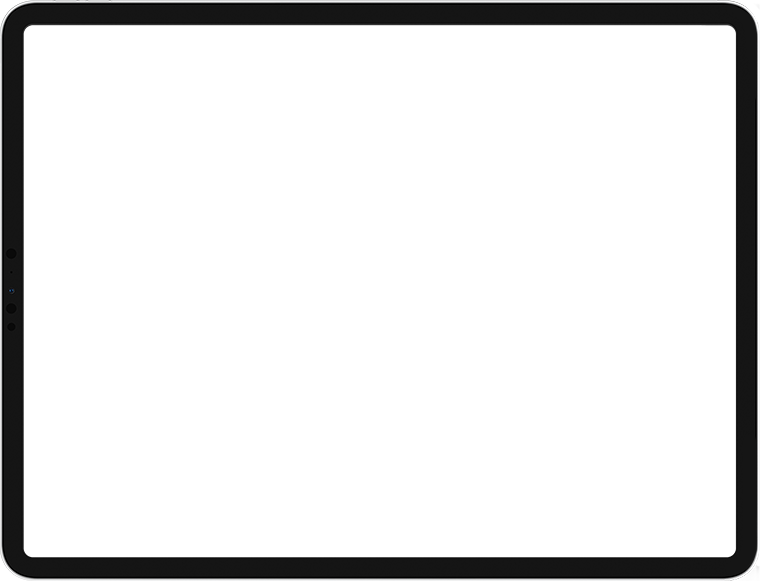 Laura's User Journey
After a long day at university, Laura is looking forward to a cozy evening on the couch. With tablet in hand, she remembers the clip of Anny's blind audition she watched on YouTube a few hours earlier. Laura wants to see more and decides to use the catch-up to watch the whole episode, which already aired on TV last week. In the video description of the blind audition, Laura finds the link that leads to the streaming platform Joyn. She first goes to the app store and downloads the Joyn app. Already on the home page of Joyn, she finds a reference to the last #TVOG episode and presses the play button. The 120 minutes fly by and Laura watches another of the already broadcast episodes immediately after.
The strategy behind
The streaming platform Joyn is at the center of our digital entertainment presence. Our goal: to build Joyn into the largest freely accessible streaming platform for premium video content in the German-speaking region.
Already in spring 2022, we made Joyn the central point of contact for our digital programming content and hence discontinued the individual channel apps of Seven.One Entertainment Group. With the full acquisition of Joyn as of October 31, 2022, we took a major step: This allows an efficient value creation through our programming as well as new opportunities for monetization.
Unlike other streaming platforms, we focused on a strong, free, and advertising-financed offering with Joyn from the very beginning which is complemented by the exclusive subscription area of Joyn PLUS+. Users can access live TV from a total of 74 free and pay TV stations, including the entire ProSiebenSat.1 channel family, a comprehensive media library as well as exclusive previews and catch-ups of our formats. In addition, subscribers of Joyn PLUS+ have the option of streaming the next episode of #TVOG and numerous other shows in advance, immediately after one is aired on TV. Today, Joyn's content offering already includes more than 35,000 fictional series, reality, show, magazine, infotainment, and sports content.
Live broadcast creates lighthouse moments!
Laura watches #TVOG live in SAT.1.
Laura gets inspired by #TVOG on Instagram.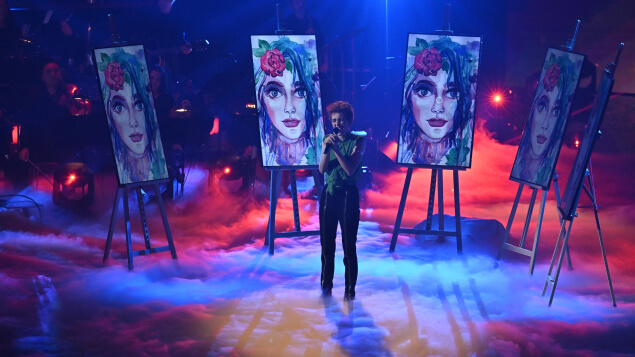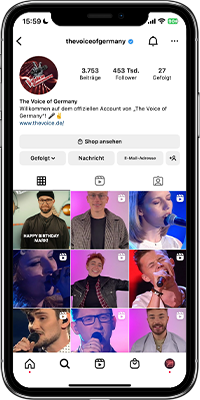 Laura's User Journey
Laura has caught the #TVOG fever: She tells her friends about the singers' strong performances and invites them over to a cozy TV evening on Friday. Together, they watch the live semi-final in SAT.1, eat pizza and keep their fingers crossed for their favorites.
At the same time as watching the show on TV, Laura is scrolling through Instagram. On the @thevoiceofgermany page, she finds, among other things, introduction videos of Anny and the other semi-finalists, show highlights, and information about the coaches. Laura watches the latest stories: Today, Anny is giving the #TVOG community a behind-the-scenes peek at the music show and how the talents are preparing for the semi-finals. Shortly before the show starts, Anny asks the community to quickly vote for tonight's outfit – outfit 1 or 2? Laura presses the second button.
Meanwhile, the showdown begins on the TV screen in the living room: Once again, Anny Ogrezeanu stands out among the talents. With "Not About Angels" by Birdy, Anny performs one of Laura's favorite songs – and wins her heart all over again. The semi-finals are nearly coming to an end and the friends are anxiously following who will move to the grand final. Of course, they do not remain idle: The group casts the votes online in parallel to vote their favorite into the final. Everyone agrees on this question – of course Anny should win!
The strategy behind
In the German-speaking region, our 15 free and pay TV stations are among the highest-reach and most successful in the market. In Germany, ProSiebenSat.1 is the leading private provider in the TV audience and advertising market (14- to 49-year-old viewers). The focus of our TV offering is on local, relevant content, and live events. With this strategy, we sharpen our brands' profile and set us apart from international streaming providers with "talk of town" formats such as #TVOG.
At the same time, we leverage this reach on our social media channels such as Instagram, where the content is developed in-house by our editorial teams, while we make selective use of individual show highlights, posting them as short clips. In this way, we also create a complete entertainment experience for users on their smartphones.
For highlight shows such as #TVOG, we additionally give the audience the chance to vote live and online for the candidates. By offering such digital interactive options, we strengthen interactions with viewers and users, forging even closer loyalty to our shows.
From TV to the shopping cart
Laura watches the #TVOG final in SAT.1.
Laura's attention is drawn to flaconi and orders her favorite beauty products there.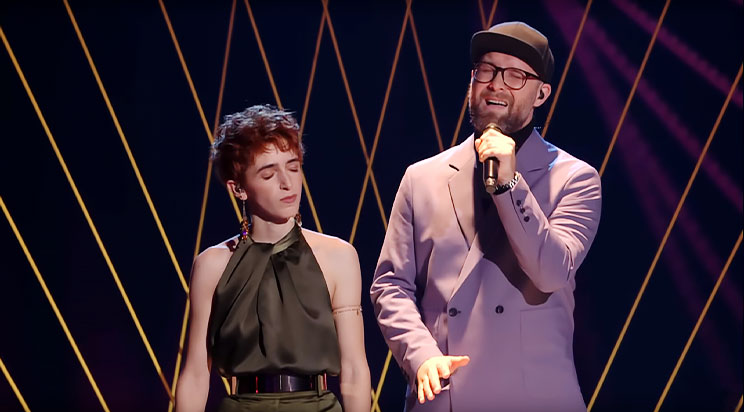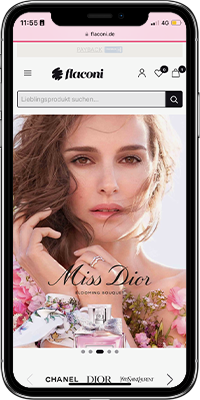 Laura's User Journey
The final is coming up! Once again, Laura sits mesmerized in front of the TV and waits for her favorite talent, Anny. Before Anny steps onto the stage and we see how the talent and coach Mark are preparing for the big performance, Anny visits the "flaconi Selfcare Lounge." In a separate area behind the stage, a stylist is waiting ready for the talents. Here, amid the excitement of the final, Anny finds a quiet moment to take a breath and gather the nerves. At home on the couch, Laura opts to click through flaconi's online store, where she has already once ordered her favorite fragrance. While waiting for Anny's appearance on stage, a new face mask and a colorful lipstick soon find their way into her shopping cart. Then finally the time has come: Together with Mark Forster, Anny performs a soulful version of "Friday I'm in Love." Laura is more convinced than ever that Anny is her "Voice of Germany." And even though this year's final has now come to an end with Anny's victory, Laura already knows that she will be back again for the next season.
The strategy behind
By selling advertising time to our advertising customers, we are able to comprehensively monetize our reach. Because through our tailored offers, we reach the target groups relevant for advertisers. Through our subsidiaries Seven.One Media and Seven.One AdFactory, we support advertising customers and agencies throughout the process, from conceptualization to designing and implementing their campaigns. At the same time, we are investing in the areas of ad tech and data in order to create additional monetization opportunities through data-driven offerings and make it possible to target advertising even more accurately.
Thanks to our position as Germany's leading advertising time marketer, we know how to market both digital and linear channels. Alongside traditional commercials, we have been using an increasing number of creative placements for many years now. Instead of broadcasting traditional commercials, brands are natively integrated into the formats – for example through TV advertorials or branded entertainment formats. In this way, advertising placements fit more naturally into the programming flow and gain greater acceptance among viewers and users, while at the same time ensuring an appealing brand experience. There, the fit between brand and advertising format is crucial. In the case of "The Voice of Germany" and flaconi, it was a perfect match. The show's positive atmosphere coupled with the high appreciation for the talents convinced flaconi that this was the right environment for their advertising. The placement of the "flaconi Selfcare Lounge" also reflects the focus of the company's new campaign. Under the claim "time to care", flaconi is positioning itself from a classic beauty retailer to a holistic self-care provider and gradually expands its extensive range to include new self-care brands.
Stakeholder benefits
As Laura's journey through our entertainment universe shows, we create an attractive environment for viewers, users, advertisers, and content creators across our entertainment brands and formats – from social media to TV to our extensive digital offering. In doing so, we create sustainable value for our stakeholders.